Best Book Front Covers
Looking through my book shelf I've realised how many cool book front covers there are out there. Authors put so much effort into making their book perfect and most of them just smash it by having an amazing front cover on the book. Infact, once I bought a book just bacause I loved the front cover, it wasn´t actually a great book after all, but the picture on the front of the book, made me open it and read every single word in it. It´s just that when the front cover is good, the feeling that you HAVE to read the book grows inside you. And that is exactly what happened to me that day. So I´m going to list my 5 favourite book front covers!
1. Shatter Mevseries by Tahereh Mafi
I think I´ve fallen inlove with this front covers, I don´t know if that is even possible, but I love them so much. I think the reason why is because I love eyes, just anything that has eyes in it, drawings, pictures or... front covers!!! Eyes mixed with nature, plants, snow, flowers; its just like the whole pretty part of this world has been drawn together into one amazing image.
If this front covers make you feel the same way they made me fell when i saw the, the felling that you had to read them, well, this is a short summary:
Juliette hasn't touched anyone in exactly 264 days.
The last time she did, it was an accident, but The Reestablishment locked her up for murder. No one knows why Juliette's touch is fatal. As long as she doesn't hurt anyone else, no one really cares. The world is too busy crumbling to pieces to pay attention to a 17-year-old girl. Diseases are destroying the population, food is hard to find, birds don't fly anymore, and the clouds are the wrong color.
The Reestablishment said their way was the only way to fix things, so they threw Juliette in a cell. Now so many people are dead that the survivors are whispering war – and The Reestablishment has changed its mind. Maybe juliette is more than a tortured soul stuffed into a poisonous body. Maybe she's exactly what they need right now.
Juliette has to make a choice: Be a weapon. Or be a warrior.
2. Starters by Lissa Price
I haven't read this book yet, but I am really looking forward to it because I have heard so many good comments about it. But most of all, I want to read it because the front cover is just AmAzInG! When I saw it at the book shop is was just like "that is a good book. That looks good" . So I bought it and it is at the top of my bookshelf waiting for me to read it. I like the front cover so much because of 3 main thing I think, because it's mainly white and that is my favourite colour so, I just like it, because it's different to other front covers, for example, the girls face is close up and you can see that the eyes are two different colors, blue and orange and the last thing is because in the backround, there is some kind of electricity circuit or something like that... Which makes me think that the story is going to have to do with the future in some way.
I haven't read the book, but this is what I found out from my research: the story is about a a girl that has everything taken away from her, her family, her home, everything, all she has left is herself, but not long after, that only thing thing she had left, her body, is also taken away from she and it is used for murder, but she keeps fighting to get it back.
3. Divergent series by Veronica Roth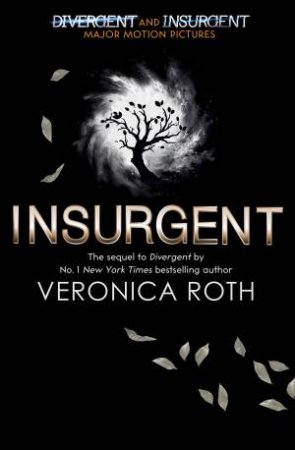 Most people like the front cover with Theo James and Shailene Woodly (the actors that play the main characters in the movie); but I personaly like the copies with the plain black backround and a symbol in the middle. There are four differrent symbols, if you include the one form Four, the book in which we see some part of the story from the boy's/lover's point of view. In Divergent (the first book) the symbol is a flame, it represents the Dauntless, the faction that she chooses to be in. In Insurgent (the second book) the symbolis a tree, which represents Amity, the faction that's helps them (Tris and Four) hide away from Erudite because they are trying to find them and also helps stop the war. And in the last book, Alligent, the symbol is a snowflake in the shape of a flower, I haven't hear of an actual meaning for that, but I think if it a the snowflake representing the bad and cold times that the characters have to go though along the story and the flower representing, the good times they spent together and the "happy" ending. As I said, there is also a book called Four, and the symbol for that is a circle of sparkles.... I don't know why and I haven't figured it out yet, sorry.
If you are planning on reading it and you want more info I recommend you read the review I wrote a few months ago.
4. Teardrop by Lauren Kate
I don't know what it is about this two front covers, but I just love them so much. I guess that the dress that the girl is wearing in Teardrop is just amazing, the way, it starts by being a dress and then turn into water is just so cool. I also think that the colous where chosen very wisely, the blue and purple in the backround combines really well with the silver from the title and itlooks great. Everything about this book is amazing, starting from the front cover, all the way to the story line, this book is defenitely in my top 10 and I really encourage you to read it!
The blurb in his book is:
Seventeen-year-old eurek won't let anyone close enough to feel her pain. After her mother was killed ina freak accident, the things she used to love hold no meaning. She wants to scaoe , but one thing holds her back; Ander, the boy who is everywhere she goes, whose turquoise eyes are like ocean.
And then Eureka uncovers an ancient tale of romance and heartbreak, about a girl who cried an entire continent into the sea. Suddenly her mother's death and Ander's appearance seem connected, and her like takes on dark undercurrents that don't make sense.
Can everything you love be washed away?
5. Red Queen by Victoria Aveyard
When i show this book to my friends or my family, they all say that the front cover looks too plain, or they say that the crown upside down with the blood looks weird or creepy. To be honest, there is not much more to this front cover other than that, but that is why I think it is such a great front cover. Because it shows that the story is going to be that kind of story in which the characters have a hard time moving on from the past, finding themselves, like the front cover, nothing is complete clear and everything seems comfusing. It is probably a kind of book that most people who don't like murder or blood would try to avoid, but once you open it, it is actually an amazing YA book that everyone could and SHOULD read because it is just so, so, so good.
In case you are interested, this is the summary:
In the world where Mare Barrow has been living at, there were two types of people. Red blooded and Silver blooded. While the Silvers were all about the 'betters' ―really, better clothes, better foods, better wealth, better life― and powers, Reds were the description of poverty and desperation. All Silvers were gifted with superhuman abilities thus they were the ones who got to rule the whole country. Reds had no abilities and were born to serve the Silvers.
Mare was Red. She spent her life living in Stilts, a poor village inhabited by Reds. Unlike her sister who actually had a skill that brought her to work on Summerton to Silvers, Mare was a pack of trouble. She had no skills, only those of stealing. She sure was not proud of that but really, she had nothing else that she could actually do. Just like the rest of Reds who didn't have jobs, Mare would be sent to the war. It was unnerving even for Mare who practically had no fears toward anything.
When her best-friend slash partner in crime, Kilorn lost his job and had to be sent to the war as well, Mare felt even more scared despite what she herself would face. Kilorn wasn't supposed to be in the war, he was supposed to stay and have a proper job. Mare devoted herself to do anything to pull Kilorn away from the nightmare. One thing led to another when Mare found herself in a complicated circumstance that actually pulled her own self away from the village to serve the King.
Mare was always the different one. At home, she was the black sheep among her own family. Among the Reds who served the King, Mare was more than just a Red. She was a Red with superhuman abilities and she was not even aware of that in the first place. In one night, her life changed completely from a Red servant to a Silver betrothed to one of the Princes. As she constantly had a mental suffer by living among the monsters that has been making Red people's life like her miserable, Mare found more and more the contrast of the two bloods. When the brave Red ones decided to fight for their fates under the name Scarlet Guard, Mare realized that her position could be a perfect bridge to the Reds revolution. But whatever this Mare was in was far more dangerous than what she could imagine. Only one thought she had to hold on in this impossible world: anyone can betray anyone.
I hope you liked this post and enjoyed reading it.
ABooktifulLife